Framework: Designlab's UX Academy
Timeline: 4 weeks
My Role: UX Design
Tools: Figma, Invision, Marvel
THE PROBLEM:
With a highly fragmented Android podcast app market, Google is hoping to grow their new podcast app into the leading choice for Android podcast consumers.
THE SOLUTION:
Google Podcasts wants to design social features and integrate them seamlessly within the rest of the Google Podcasts app by using existing design patterns
Goal: To identify demographics, trends and goals of the podcast industry and Google Podcasts' target market
Process: Market Research, Heuristic Evaluation, Competitive Analysis, Interviews
Research Goals:
To better understand the podcast industry and Google Podcasts' target market

Determine the demographic of Google Podcasts' target users

Determine Google Podcasts' users' needs, motivations, and frustrations

Gain a better understanding of social features found in other apps
Methodologies:
• Market research: To gain a better understanding and analyze trends of the podcast industry and Google's brand ideals
• Heuristic evaluation: To evaluate Google Podcasts' existing usability, and to identify any potential usability improvements
• Competitive analysis: To identify and analyze Google Podcasts' direct and indirect competitors
• User interviews: Meet with Google Podcasts users and gain insight into their experiences, as well as to answer any questions not covered by secondary research.
I began my project by researching the podcast industry and its trends and challenges as well as examining Google Podcasts and their user demographic. This gave me valuable insight as to the needs and frustrations of the users I would be designing for, as well as a greater understanding of the Google Podcasts business strategy. Below are some notable findings from my market research:
‍In order to familiarize myself with Google Podcasts' current design, I analyzed the features and layout of Google Podcasts' mobile app. This allowed me to learn about the design patterns they utilize and how the new features I create would fit in within the app. Google Podcasts' existing layout is very simple, helping the user to easily identify the most important elements. View the full analysis here.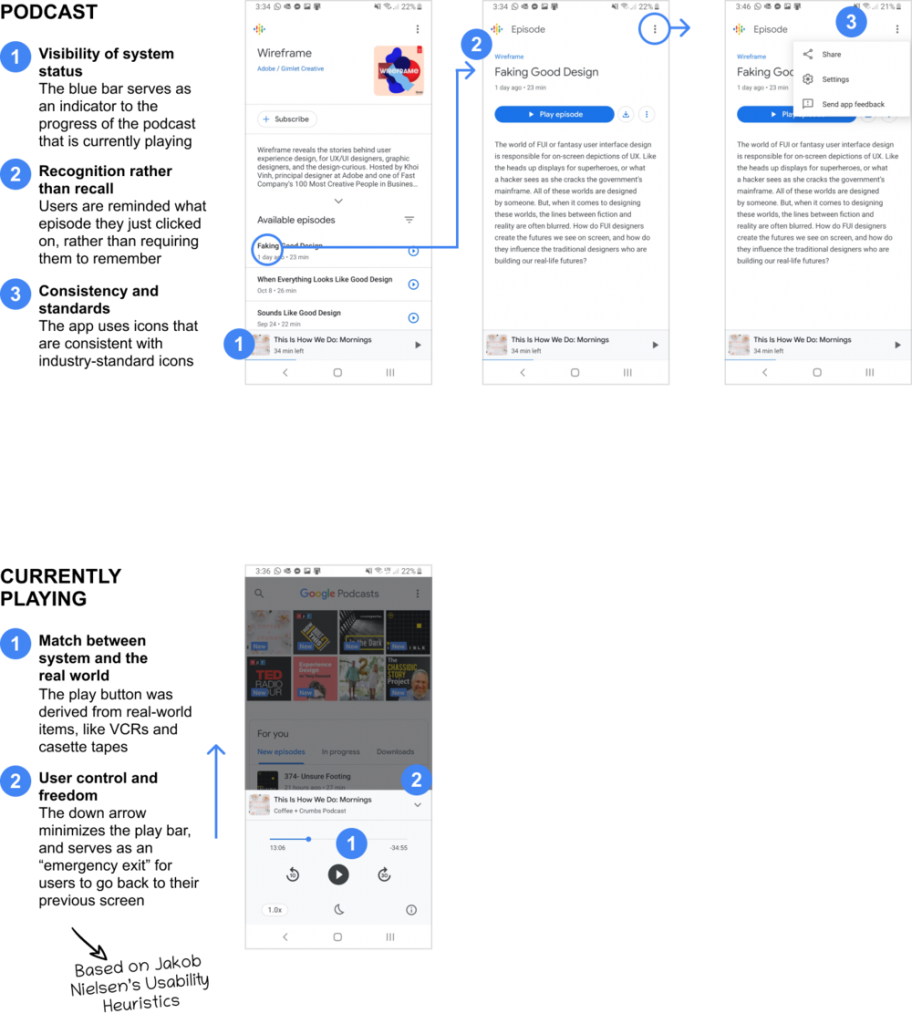 Because the Android podcast app market is so fragmented, my competitive analysis was a key aspect to learning how Google Podcasts could distinguish itself to be a strong contender within the Android podcast app market. It gave me the opportunity to learn more about other main players in the podcast app arena, and gave me insight into how Google Podcasts can take this opportunity to distinguish itself as a major contender, utilizing the strengths and avoiding the weaknesses found among its competitors.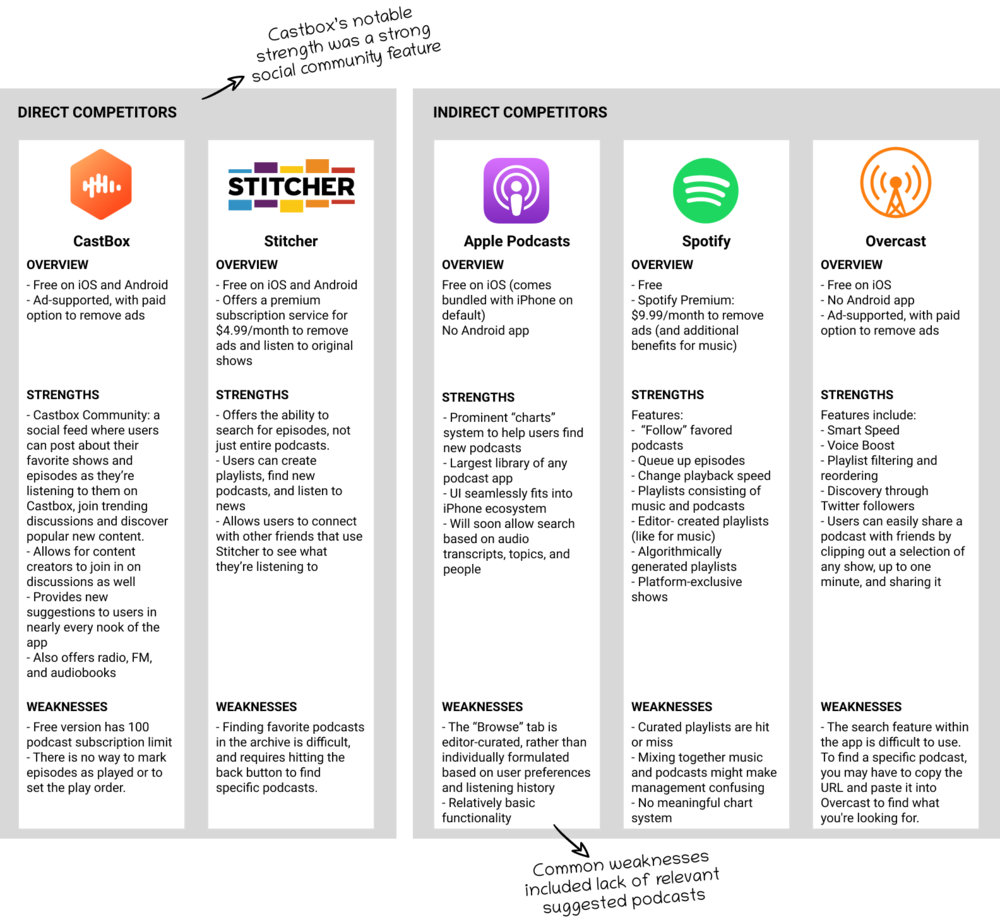 ‍To learn more about Google Podcasts' users I conducted 5 in-person interviews with young professionals, consisting of open ended questions to obtain a deeper understanding of what users are typically doing when they listen to podcasts, how they discover new content, and how they engage with others about podcast episodes that they are interested in.
Goal: To synthesize and analyze research findings
Process: Empathy Map, User Persona, Point of View Statements and How Might We Questions
To synthesize my findings from my interviews, I transcribed all my data and organized them into groups so that I could observe the common patterns and determine their insights and needs.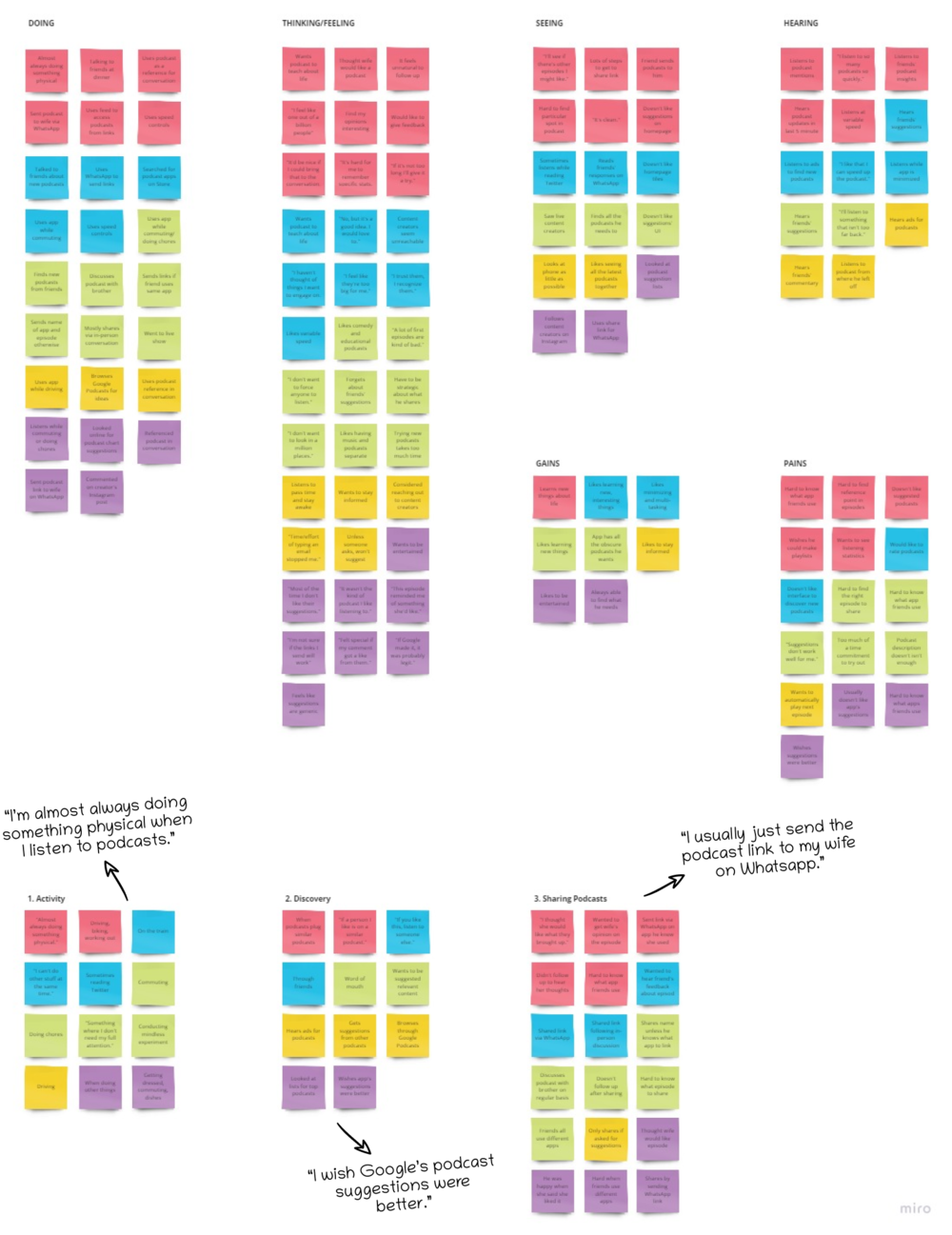 Insights
Users listen to podcasts while completing other tasks.

Users discover new podcasts based on podcasts that they enjoy listening to.

Users prefer to share podcasts with friends by directly linking the episode link.

Users are deterred from sending direct links to friends when they are unsure of what podcast apps their friends use.
Needs
To be able to listen to podcasts that cater to various situations.

To know that recommended podcasts are similar to his current podcast preferences.

To be able to easily link individual episodes.

To know which friends use Google Podcasts to listen to their podcasts.
Based on my user research I crafted a user persona, personifying one of Google Podcasts' main target markets: the Young Professional. Mark embodied the desire I found in my research of users appreciating podcasts' abilities to challenge their worldview and engage in meaningful conversation. By creating Mark, I was able to reference his goals, needs, frustrations, and motivations so that I could better empathize with users during my design process.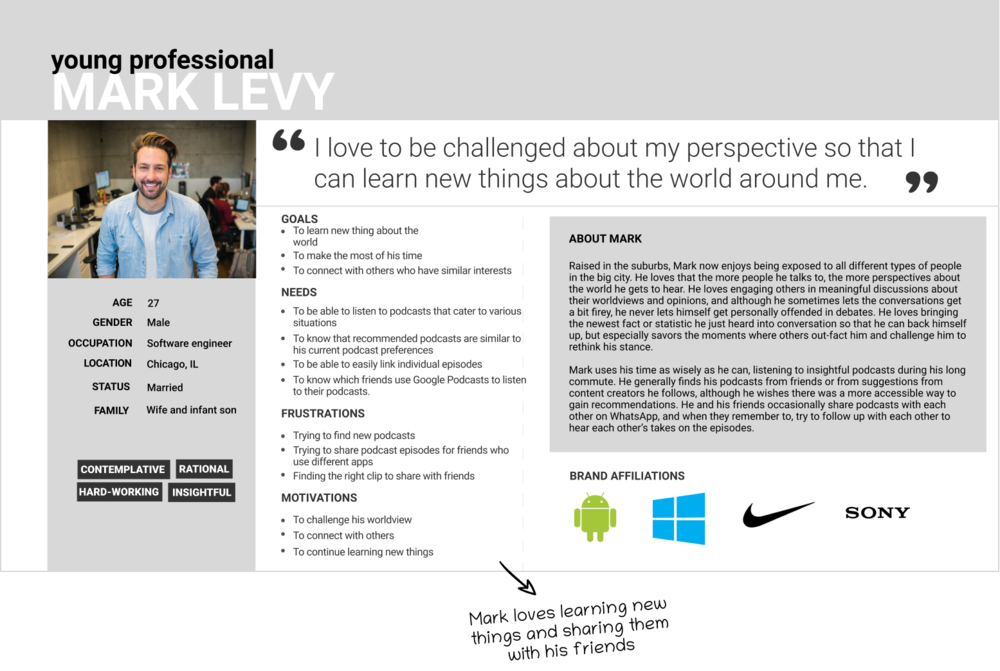 POINT OF VIEW STATEMENTS & HOW MIGHT WE QUESTIONS
After defining my target user, Mark, I moved on to translating my insights and needs to frame Mark's point of view so that I can define the problems I am going to solve for. I then translated these point of view statements into "how might we questions…?" so that I can begin the ideation process.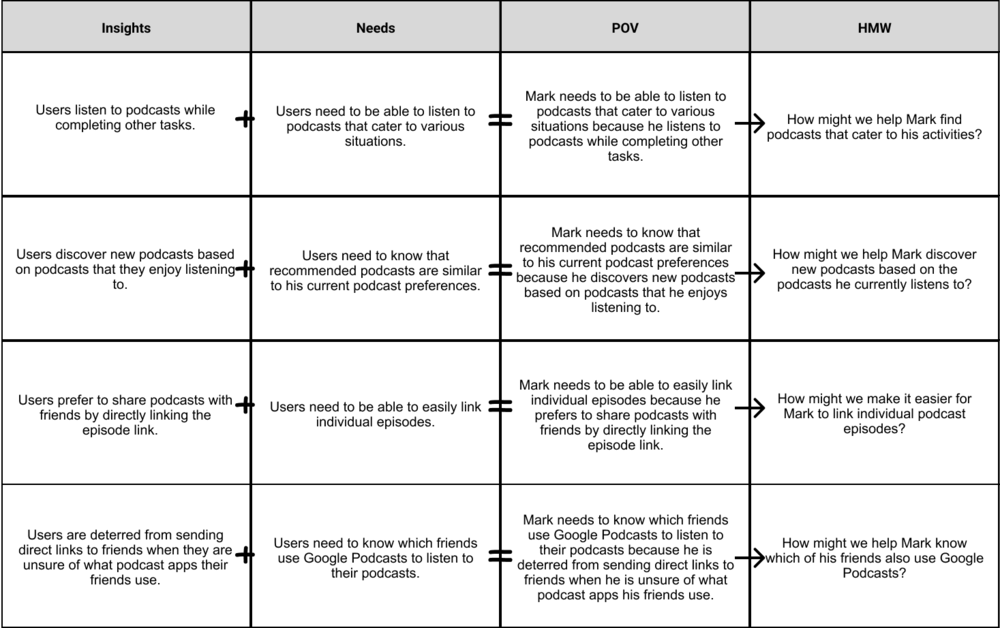 Goal: To brainstorm potential solutions, organization of content, and flows
Process: Personal and Group Brainstorm, Product Roadmap, Sitemap, Task Flow, User Flow
‍In order to generate some extra solutions that would address Mark's needs, I gathered 4 friends and led a group brainstorming session. After introducing my persona, Mark, to the group, I gave everyone sticky notes and encouraged them to come up with as many solutions as possible within the 3-minute time limit I set for each HMW question. The group brainstorming exercise gave us the opportunity to generate creative ideas and build upon each other's thought processes. (And it was a fun way to include my friends to have fun with me during the design process!)
After generating lots of of great solutions to my HMW questions, I then narrowed down those solutions and chose the features that would best address each question, taking into consideration practicality and impact on my users, as well as how smoothly the features could fit into Google Podcasts' existing design. The roadmap helped me to focus on features that would solve for Mark's needs.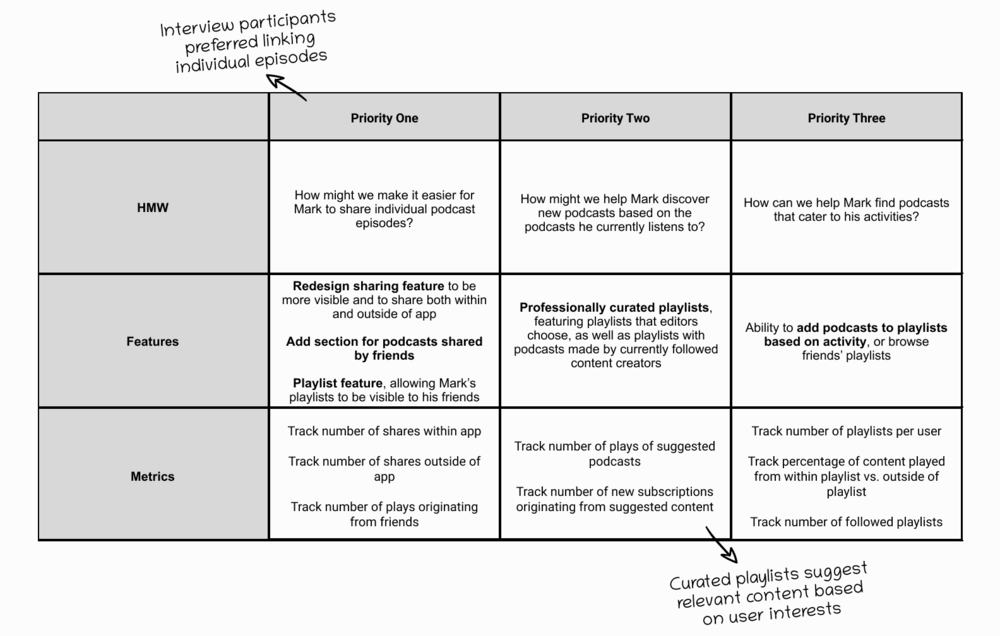 ‍To help me better understand how the new features would seamlessly fit into Google Podcasts' existing structure, I created an application map outlining Google Podcasts' infrastructure.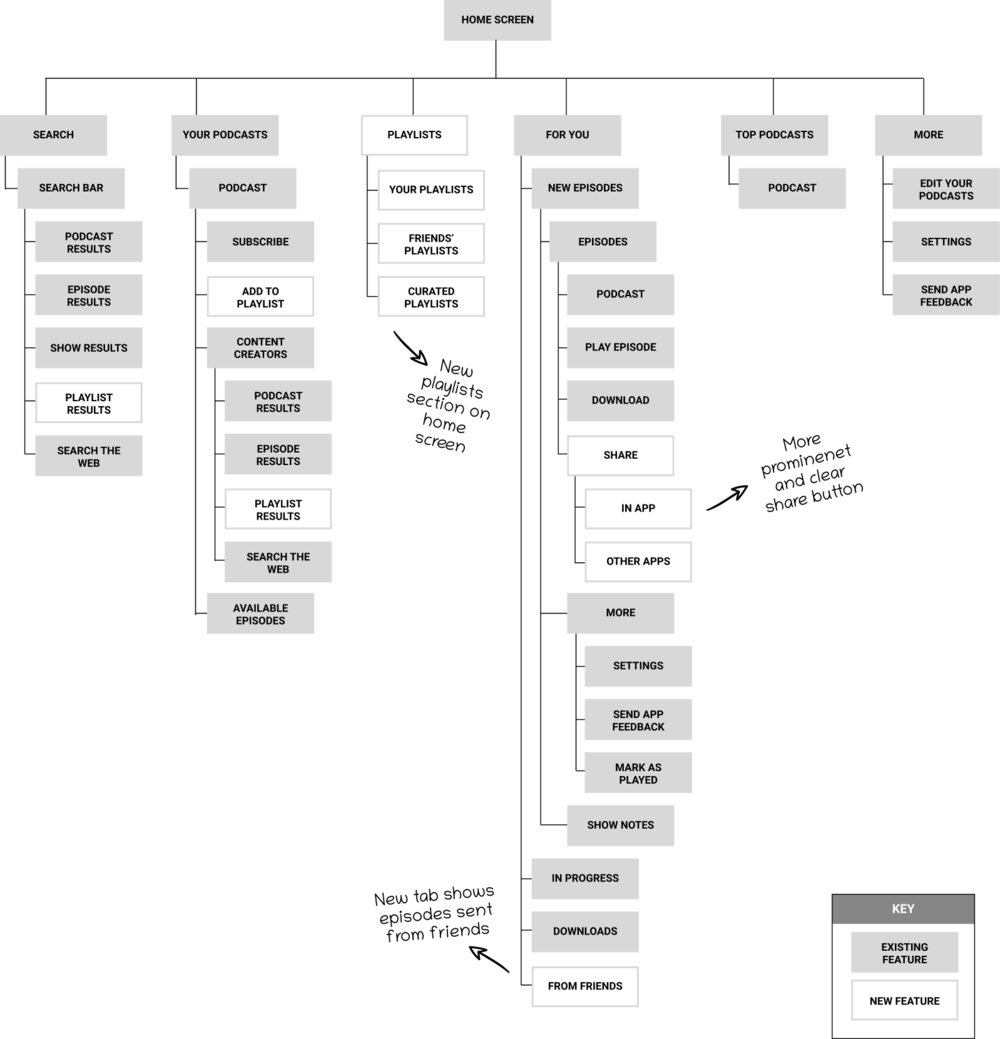 To demonstrate how Mark would interact with the new features, I created four task flows based on scenarios that I uncovered during my research. Creating the task flows helped me visualize the customer experience, and to ensure that it was as usable and straightforward as possible.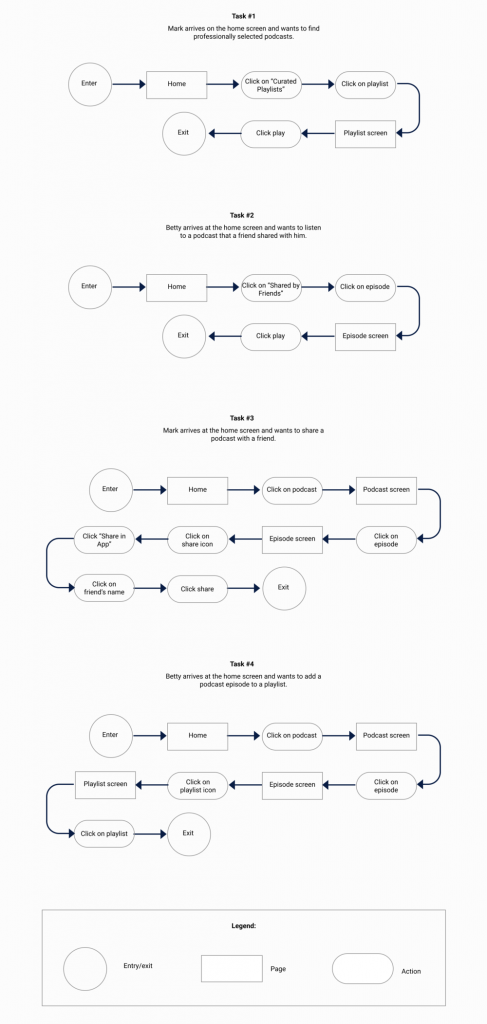 To further analyze how Mark would utilize my new features, I created a user flow to portray all potential paths he could take to completing his task. This allowed me to understand how the screens and features should be organized based on their relationships with other screens, as well as to optimize Mike's user journey to be as clear and efficient as possible.
The four paths follow the following scenarios: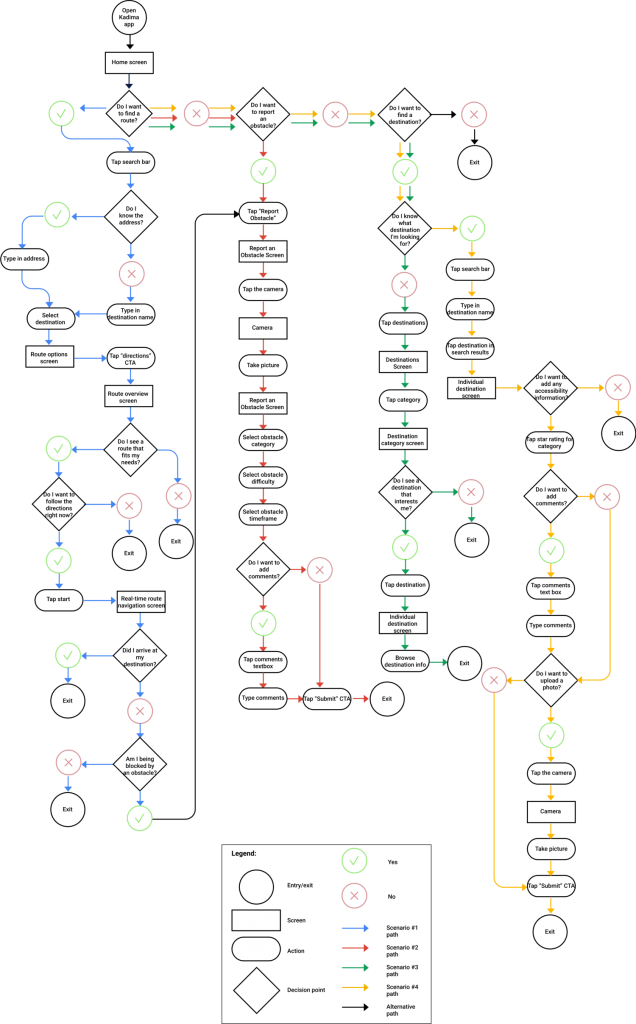 Goal: To design Google Podcast's user interface
Process: Sketches, Hihg-Fidelity Wireframes
To begin the design process, I sketched out how I envisioned my features fitting into Google Podcasts' existing design. With every decision I made in my sketches, I made sure to reference Google Podcasts' existing design in order for my features to fit in as seamlessly as possible.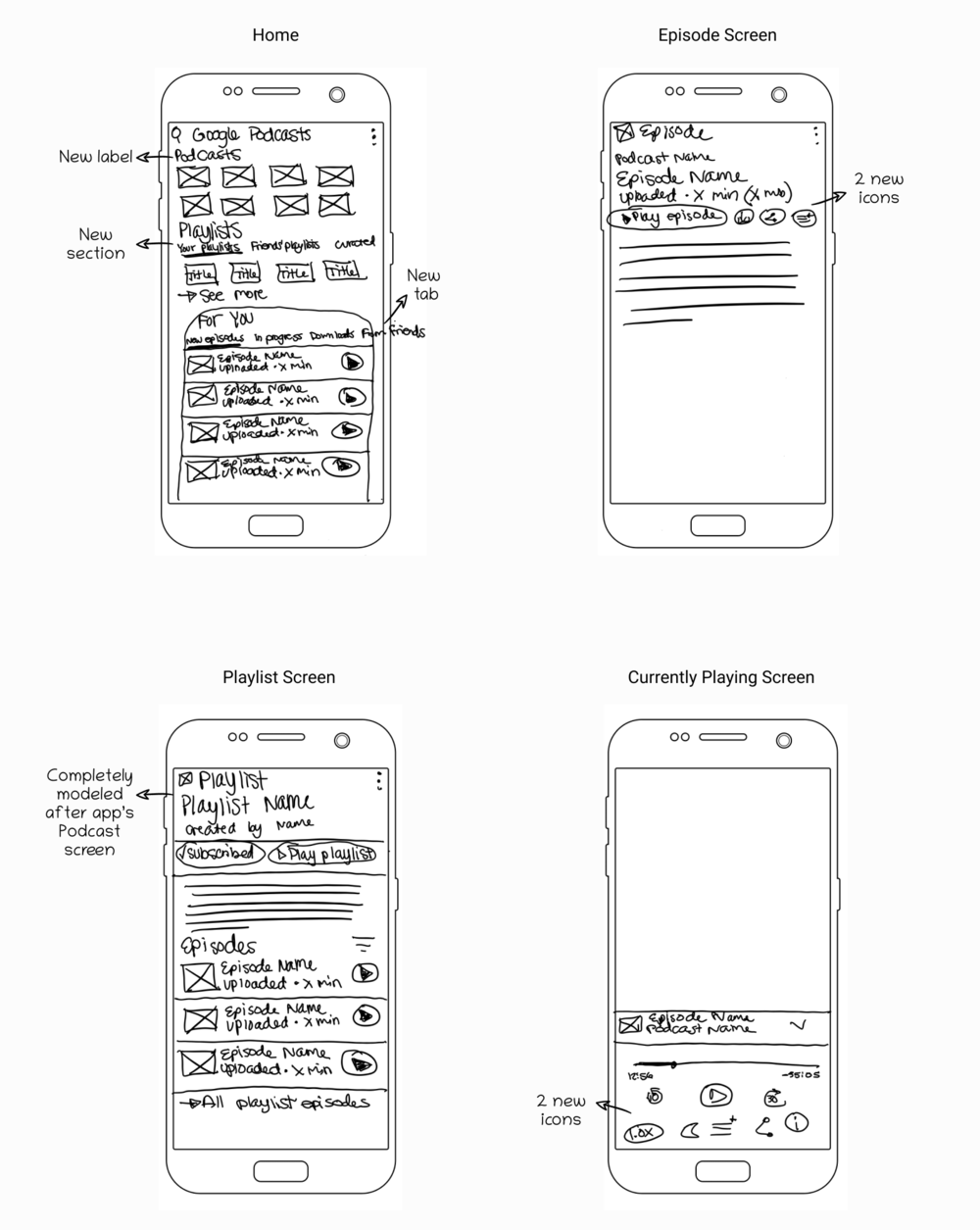 Before translating my sketches into high-fidelity wireframes, it was important that I had a thorough understanding of Google Podcasts' current brand guidelines so that I could ensure a consistent experience for users. I researched Google's brand guidelines as well as Google Podcasts specifically, and compiled the elements into a Style Tile for my reference.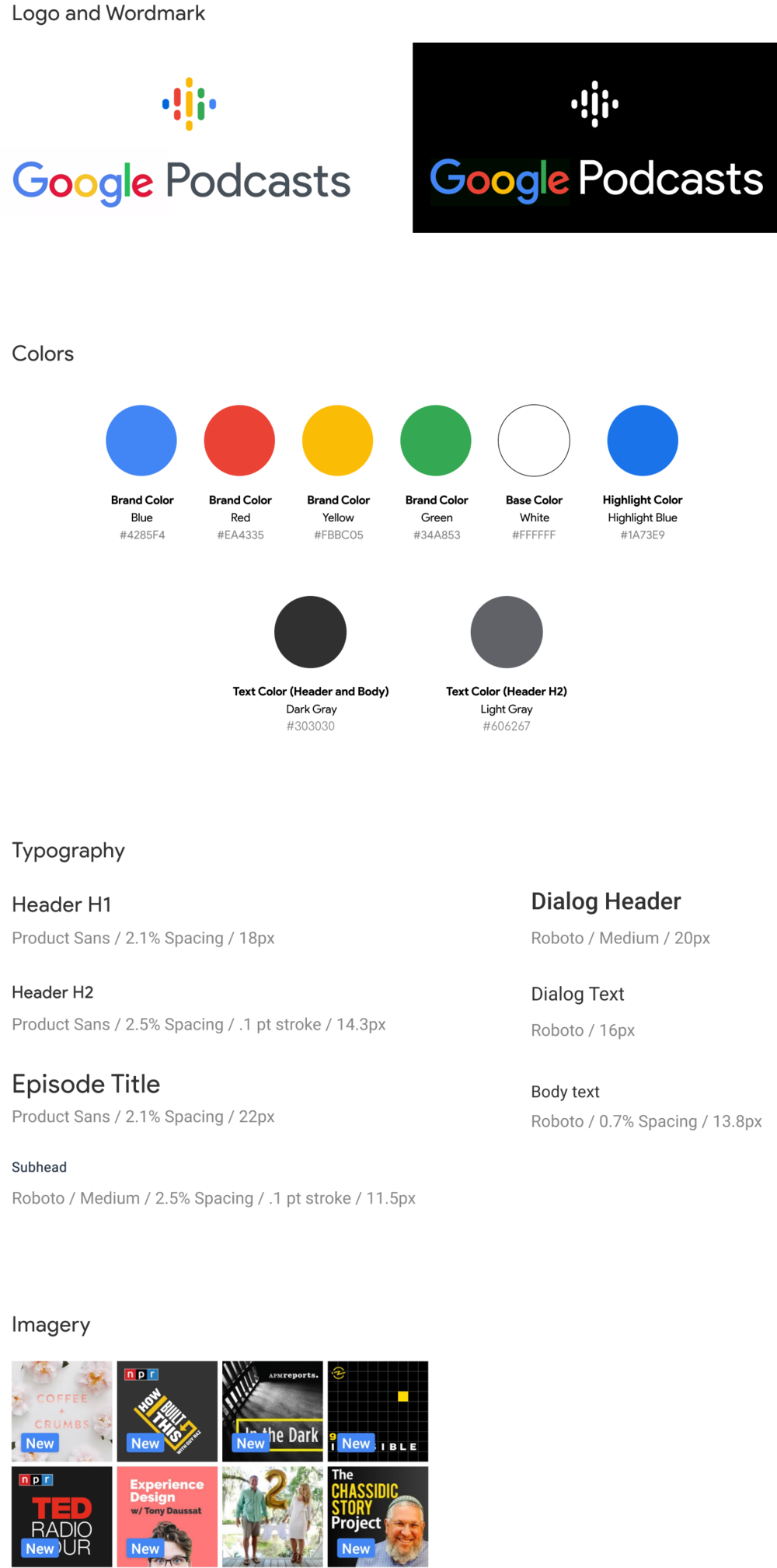 As I went along the design process, I continued to fine-tune my designs to take into account what would integrate into Google Podcasts as seamlessly as possible, while still addressing my user needs. Most notably, instead of adding new icons like I initially had envisioned, I decided to utilize Google Podcasts' existing menus to house my new features.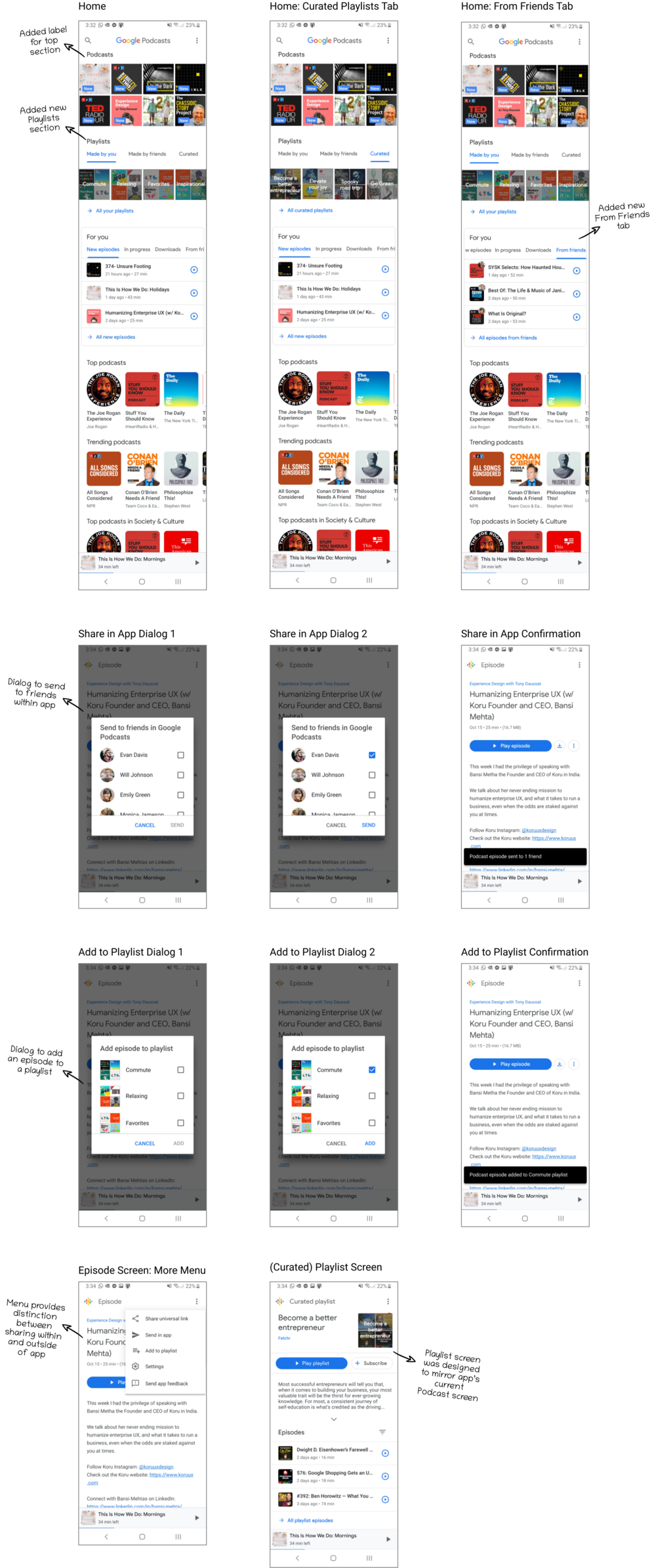 Goal: To prototype Google Podcasts' new features and to obtain feedback based on usability testing
Process: High-Fidelity Prototype, Usability Testing
In order to see how users interact with Google Podcasts' new features, I created a functioning high-fidelity prototype using Figma and InVision. This allowed me to begin to test the usability of these new features.
To determine the ease of use of Google Podcasts' new features, I conducted in-person usability tests using my high-fidelity prototype on 5 participants in a similar age category as my persona, Mark. I was able to gather insightful feedback based on observation of my target users. It is only when my designs have been validated and improved based on user testing that I can say I truly accomplished my goal.
Objectives:
Observe how users navigate throughout the app and complete their tasks

Determine if users seem to easily be able to complete their tasks

Identify areas of the prototype that seem to cause confusion and need improvement
User Tasks:
Play a curated playlist that will give you suggestions on how to grow your business.

Find the haunted house podcast episode that your friend sent you and play it.

Find the recently published UX Design podcast episode ("Humanizing Enterprise UX") and share it with your friend (Evan Davis) in the app

Add the above-mentioned UX Design episode to your "Commute" playlist.
Goal: To update my designs based on common patterns found in usability testing
Process: Affinity Map, Branding, Revisions, UI Kit
My usability testing revealed a few key findings. I organized the trends, themes, and areas of opportunity for discovery and improvement based on usability testing on the Affinity Map.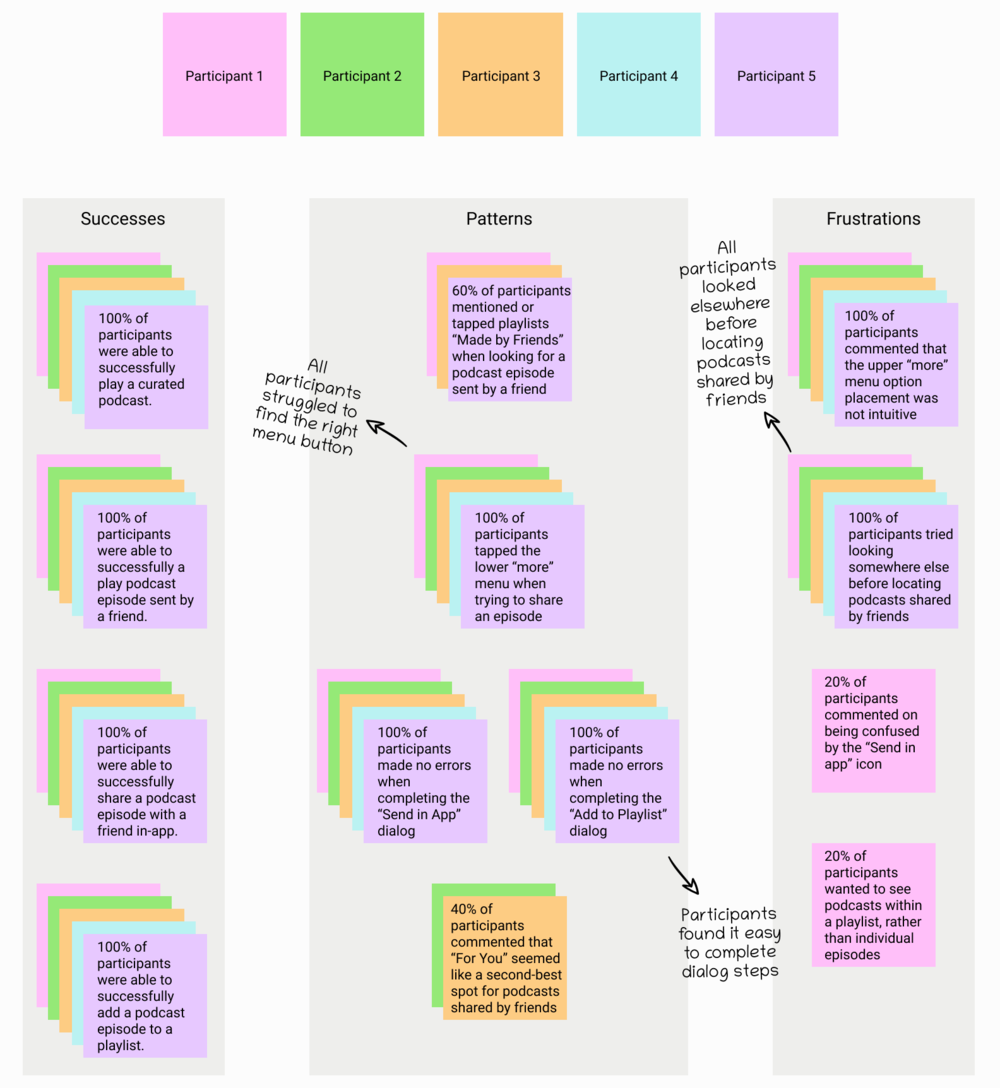 Based on this feedback, I established two main insights and recommendations
Insights
Users expected the lower menu button to lead them to episode- specific actions

Users were initially unsure of where to access podcasts sent by friends
Recommendations
Move the new features ("Send in app" and "Add to playlist") to the lower menu

Move "From Friends" to an earlier tab
revised high-fidelity prototype
I made the revisions based on the recommendations in my Affinity Map, and compiled them in a revised high-fidelity prototype. Interact with the prototype and view my revisions below.

As I was creating my wireframes, I utilized Figma to recreate all of the design elements. I created and maintained a UI Kit for my reference so that I could ensure that all elements were consistent.

Next Steps
Hand off designs to developers, discuss logistics of implementation, and determine any other technical limitations.

Continue iterating based on additional testing to either confirm or improve the revisions I made, and begin collecting metrics regarding engagement of new features.

Update UI Kit as needed
Final Thoughts
The most challenging aspect of this project was adhering to Google Podcasts' existing design choices, even though users unanimously struggled with choosing the correct menu option.

If this project were part of a larger app redesign, I would suggest based on my user testing to reexamine the content and placement of each "more" menu

Although my new features seemed to be well-received among my testers, I would need to delve more into the back-end technicalities of providing relevant curated playlist suggestions

I really enjoyed the challenge of creating features within an existing framework, as this most accurately reflects many real-world projects that designers work on to improve existing products